Introducing the 2014 Mazda CX-5 with 2.5L SKYACTIV®-G Engine
WASHINGTON, March 14, 2013 /PRNewswire/ -- The Greater Atlanta Automotive Media Association (GAAMA) yesterday named the 2014 Mazda6 "Best New Vehicle" at the Atlanta International Auto Show.GAAMA President Davis Adams said, "The new Mazda6 has...

Electric vehicles make a lot of headlines, but do they make sense for people like you? Read some thoughts that will help you decide whether or not an electric vehicle is right for you.
Your subconscious reveals a lot
It's easy to believe that your choice of car color is simply a matter of making a decision between likes and dislikes, or perhaps, as suggested by a recent survey conducted by the UK Automobile Association (AA) where yellow, white, and red topped...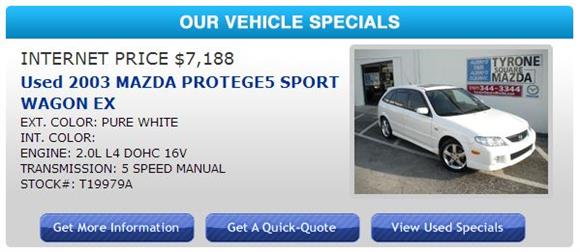 2013 Mazda MX-5 Miata Sport For Sale!
Healthy sandwiches, soups or stews and pasta salads turn "pit-stop" lunches into nutritional midday meals.
Five health habits of world-class athletes.
Visit Us!
Driving Directions
Sales Dept. Hours
Mon-Fri: 9:00 am – 8:00 pm
Sat:9:00 am – 7:00 pm
Sun: 11:00 am -5:00 pm
Service Dept. Hours
Mon-Fri: 7:00 am – 6:00 pm
Sat: 8:00 am – 4:00 pm
Sun: Closed